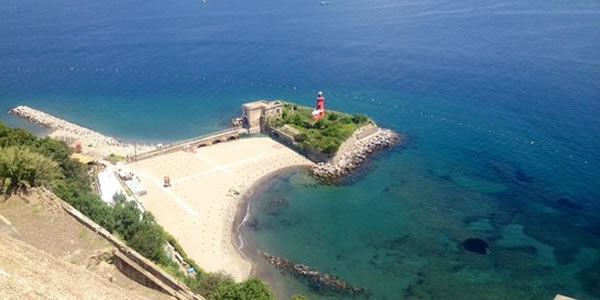 Go to Photos (1)
Enchanting trip to Baia
Baia (ancient volcanic crater) is a fraction of the municipality of Bacoli, the Bay gulf is between Punta Lanterna where is located the Aragonese castle and Punta Epitaffio.
Its depths have numerous remains of considerable artistic value, and if you dive into the crystal clear waters with a diving mask and fins you can see the remains of a submerged city, villas and mosaics of many years ago.
On August 7, 2002 the Underwater Archaeological Park of Baia was established as a protected marine area.
The tour we offer includes the following steps:
• Port of Embarkation / disembarkation: Miseno "Casevecchie" at 10.00 or 14.00
• Stop and swim under the castle of Baia
• Tour along the coast of Baia, Pozzuoli, Bacoli, Miseno
• Aperitif on the boat
• Return to the port of shipment at 2.00 pm or 6.00 pm.
Total duration of the excursion 4 hours
The program is susceptible to variations with regard to weather and sea conditions, in which case it may not be possible to make some stops or visits foreseen in the program.
Maximum 6 people on board
The tour includes: Snack, Drinks (beer-wine-coke-cola-coca cola light-water), Snorkeling Equipment, Assistance, Lifejackets
The boat is equipped with stereo, first aid box, insurance according to the laws in force.
It is possible to organize your boat tour based on particular needs or specific requests from customers.
Do not forget: swimsuit - beach towel - sunscreen.
Minimum 4 people.
Price 20,00 € per person