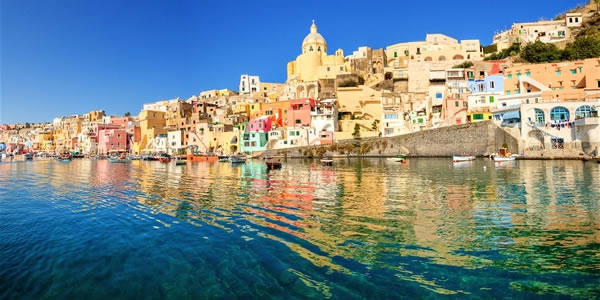 Go to Photos (1)
Unforgettable day in Procida
The island of Procida is beautiful, ancient and attractive, but it is even more enchanting and radiant if visited by the sea.
Procida is a collection of colorful houses, exciting views, vineyards, lemon groves, and then sandy beaches, coves, paths, narrow streets, nature, blue sea, scents, colors and flavors.
The tour of the Island of Procida by boat is a unique experience and not to be missed, it will be a pleasant day to remember.
Moreover you can dive into the blue waters of the beautiful coves of Procida or the islet of Vivara. The tour of about 8 hours, includes a stop for a swim with a drink on the boat and lots of music, and then a delicious lunch of fresh fish in a restaurant located on the sea in the picturesque little port of Corricella (The cost of lunch is not included in the price).
The tour of the island by boat is a discovery of ravines, caves and coves immersed in the silence of inaccessible and inaccessible shores where you can make a dive that offers unforgettable scenarios.
Our boat tour in Procida will lead to the discovery of the most scenic, famous and photographed points of the island.
The tour we offer includes the following steps:
• Port of Embarkation / Disembarkation: Miseno "Casevecchie" 10.00am
• Arrival by boat to the island of Procida at 10.20
• Stop in one or more of the island's many coves for bathing and snorkeling
• Tour of the island along the Vivara islet
• Aperitif on the boat
• Arrival by sea at the port of Corricella and relative landing.
• Lunch at a restaurant in the port
• Free time for a tour of the Island of Procida
• Return to the port of shipment at 18.00.
Total duration of the excursion 8 hours
The program is susceptible to variations with regard to weather and sea conditions, in which case it may not be possible to make some stops or visits foreseen in the program.
Maximum 6 people on board
The tour includes: Snack, Drinks (beer-wine-coke-cola-coca cola light-water), Snorkeling Equipment, Assistance, Lifejackets
The boat is equipped with stereo, first aid box, insurance according to the laws in force.
It is possible to organize your boat tour based on particular needs or specific requests from customers.
Do not forget: swimsuit - beach towel - sunscreen
Minimum 4 people. The cost of lunch is not included in the price.
As an alternative to lunch at the restaurant, the "Dream Boat" offers the possibility to eat a mussels of mussels prepared directly by boat at a cost of 10 euros more per person offering wine and water in large quantities.
Price 30,00 € per person