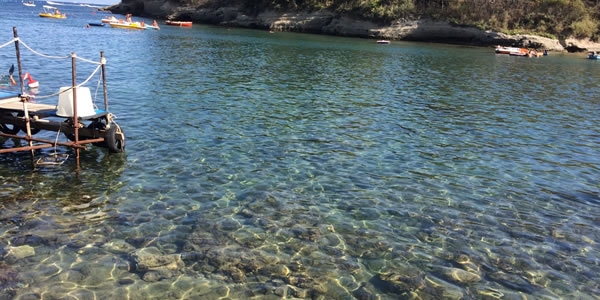 Go to Photos (2)
Enchanting morning in Baia
The Schiacchetiello is an enchanting cove of the coast of Puglia adjacent to the Pennata islet. It falls into the marine reserve of the Campi Flegrei Regional Park. Its name derives from the sound of the sea breaking on the rocks. The Schiacchetiello still remains an unspoilt place where the sea is always blue and clear, a true corner of paradise.
The tour we offer includes the following steps:
• Port of Embarkation / Disembarkation: Miseno "Casevecchie" 10.00am
• Stop and swim under the castle of Baia
• Tour along the coast of Baia, Pozzuoli, Bacoli, Miseno
• Aperitif on the boat
• Lunch in a restaurant set in the Punta Pennata island
• Still sun and sea in the islet of Punta Pennata
• Return to the port of shipment at 18.00.
Total duration of the excursion 8 hours
The program is susceptible to variations with regard to weather and sea conditions, in which case it may not be possible to make some stops or visits foreseen in the program.
Maximum 6 people on board
The tour includes: Snack, Drinks (beer-wine-coke-cola-coca cola light-water), Snorkeling Equipment, Assistance, Lifejackets
The boat is equipped with stereo, first aid box, insurance according to the laws in force.
It is possible to organize your boat tour based on particular needs or specific requests from customers.
Do not forget: swimsuit - beach towel - sunscreen.
Minimum 4 people. The cost of lunch is not included in the price.
As an alternative to lunch at the restaurant, the "Dream Boat" offers the possibility to eat a mussels of mussels prepared directly by boat at a cost of 10 euros more per person offering wine and water in large quantities.
Price 30,00 € per person